Insightin Health Retains Experienced Client Success Leader Erin Rathbone as Vice President of Operations
Insightin broadens its leadership team for enhanced best-in-class client experience
Baltimore, MD – May 5, 2020 –  Insightin Health, provider of Artificial Intelligence driven "Next Best Action" for preventative care management, today announces the selection of Erin Rathbone for Vice President of Operations. As the newest Insightin Health team member, Rathbone leads Insightin Health's Client and Technical Project Operations team while collaborating with leadership to drive Insightin's client success culture.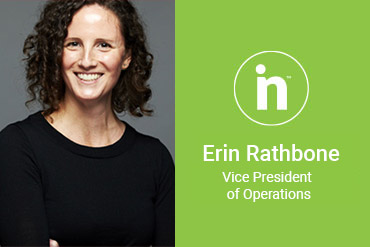 Rathbone brings with her a substantial and accomplished career in client success and relationship management, working with industry-leading firms in both healthcare and technology.
In her most recent role as Director of Client Success at Inovalon, Rathbone was responsible for day-to-day client communications, product execution oversight, client retention and growth, as well as participating in product development and strategy initiatives. In 2018, Rathbone was recognized for her drive and achievements in the healthcare industry with a Rising Star nomination from the Healthcare Businesswomen's Association.
Rathbone's previous experiences have provided her with a client-centric perspective that she brings to her new role with Insightin Health. With this mindset, she approaches all processes and operations from a unique angle. Putting the client first has been a longstanding view of Rathbone's and she has no intentions for that to change in this operations-based role. She is most looking forward to collaborating with the entire Insightin Health team by constantly innovating to bring actionable, effective, and agile tools to the healthcare industry that truly impact human behavior and ultimately revolutionize the healthcare experience.
" We are extremely excited to have Erin lead our overall technology implementation and delivery with best-in class-client experience," says Insightin's Chief Executive Officer Enam Noor. "We look forward to collaborating with her experience in enterprise healthcare solution deliveries."
"I hope to influence efficiencies and strategies for easy, simple client integrations and product delivery that effectively get the platform into the clients' hands," said Rathbone. "The quicker we can make this happen, the quicker we can effectuate change."
 About Insightin Health
Insightin Health is the industry's only single platform which provides a complete personalized member engagement for each steps of the health care journey. The core platform combines medical, clinical, cognitive, and social determinants of health to recommend the Next Best Action (NBA) for each person. Health plans can improve quality measurements, gain higher member satisfaction, and increase member retention. The simple integration and easy to use platform creates an effective shift towards healthier population for the health plans. For more information, visit https://www.insightinhealth.com.