Insightin raises $12M to help health plans get value from big data
The company aggregate disparate data so that insurers can take the next best action for the patient
There's no shortage of data coming from the healthcare system, be it from hospitals, EHRs, wearables and claims data. We now know more about patients than ever before, but the problem is where that data sits and how it's used. Basically, it's not being put to good use.
While other sectors, such as e-commerce and finance, have learned how to use data to create a great experience, so far that hasn't happened in the healthcare space, said Enam Noor, CEO and founder of Insightin Health, which announced a $12 million Series A funding round on Wednesday. The company uses healthcare data to help insurance companies offer their members a personalized experience.
"About 10 to 12 years ago, when I got involved in the healthcare sector, the biggest problem that I saw is there are a lot of silos of data. If this is a pre-authorization, the data sits there. If it was a plan benefit, then it sits there. Then you go to a doctor's office, claims all sit there,a and the consumer is in the middle. All of that data matters to that person, but it does not correlate and get aggregated around that person's needs, and then literally cater around that individual," he explained.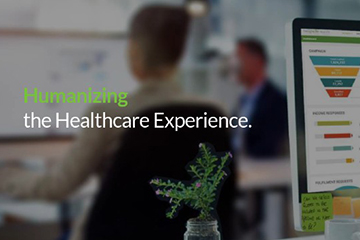 He believes that the experience should be more akin to ordering from Amazon, where all the personalization happens behind the scenes, and for the end user all they know is they're being recommended the best course of action for them. That's especially important for seniors, who are on Medicare, who don't have a human resources representative to go and ask for clarification.
"We saw that with a direct-to-consumer health care product, like a Medicare Advantage or the ACA, there needs to be a data aggregate, bringing all this information in a platform and leverage the advanced technology, like the AI and machine learning, to drive that consumer experience, drive that information collaboration."
For example, if there are two members who both have diabetes, and they're both the same age, typically what a Medicare Advantage plan would create a campaign and send both of them a pieces direct mail, or hire someone to call them, and remind them to go to the doctor. Both of those members would get the same experience, even though they might respond differently to different types of outreach, or might not even need the outreach at all.
Essentially, what Insightin does is aggregate all the healthcare data that's coming in; it then sells its software to insurance companies, helping them understand, their customers so that they can recommend, in real-time, the next best action for that specific person.
"We don't just look at it if somebody has diabetes, we are a data hub; we are gathering healthcare assessment data, third party data, sensitive data. A lot of data comes into our platform. We then slowly identify that there's a different path between each patient. Maybe they are 67, they both have Medicare Advantage, but one is married and lives with their husband and another one is divorced and lives in a senior care facility. One shows they will most likely go to a doctor, another one says she may not and she might be a suspect for social isolation," Noor explained.
"Our platform will actually, in real-time, identify that there's a different path needed. That means, in one case, a care coordinator must have a one-on-one conversation to identify why there is a challenge. So, in real-time, it extracts those paths, those workflows, and then pushes us out whatever those outcomes need to be through the next best action."
With personalization comes lower costs; by using Insightin, companies don't have to spend money to send each of their members a piece of direct mail, only needing to send it to the ones it. But the even bigger ROI comes with increased compliance, which means lower premiums and, eventually, better healthcare outcomes for patients.
"The longer term benefit is, because the consumers are actually doing their preventative care management, their cost of care lowers. Just like changing oil for your car, if you keep it up, a car doesn't break down. So, ultimately, what's happening is their premiums can go lower as well because the cost of that person's benefit coverage is going down."
In its four years of existence, Insightin has already been able to lower costs for its customers up to 30 to 40 percent, versus a traditional way of doing outreach. It has also documented improvement engagement in the 70 to 80 percent range.
Insightin's new funding, which brought its total raised to $15 million, was co-led by Blue Heron Capital and the Blue Venture Fund, which is a collaboration between Blue Cross Blue Shield companies, the Blue Cross Blue Shield Association, and Sandbox. Health Catalyst Capital, Revolution's Rise of the Rest fund, and SaaS Ventures also participated.
Right now, the company covers 5 million Medicare Advantage members, which is about 18 percent of the market, including in every state in the United States, plus Puerto Rico and Guam. Part of this funding will go toward increasing that market share to closer to 70 percent, which means expanding its feature functionality, giving its potential customers more tools, including aggregating more data from more sources.
"In healthcare, there's a lot of unstructured data, such as phone calls. In today's world, we're able to ingest that data and create a sentiment analysis immediately, in real-time. How was the phone conversation? Was the tone loud enough? So, we want to start applying natural language processing in other areas, in clinical codes and activity, to the EMR level data," said Noor.
"There are a lot of doctor's notes which are also unstructured data that gets put away; we want to be able to start ingesting those as well, because that also allows us to get to that understanding of how the doctor's visit went, what conversations are happening. The more real-time data comes back to the ecosystem, the better our next best action recommendations become."
In addition, the funding will also go toward growing the Insighin team, which currently consists of 40 employees; the goal is to bring that number to over 100 employees by the end of this year.
For Insightin, the ultimate goal is to take all of the data that health plans are not currently using, and get value out of it, allowing them to truly understand their users.
"Companies like Facebook and Google, those are free platforms, but they really understand their consumers and they really deliver what the consumers are looking for. Through our platform, when we're able to start doing that, that's what success will be for us," Noor told me.
"You're really impacting the consumers by letting them have this knowledge. When consumers are healthier, then the cost of healthcare is lowered. So, that's where we want to drive this to. When that happens we feel like we're impacting the big picture."
About Insightin Health
Insightin Health delivers the industry's only single platform which provides complete personalized member engagement for each step of the health care journey. The core platform inGAGE™ combines medical, clinical, cognitive, and social determinants of health to recommend the Next Best Action (NBA) for each person. Health plans can improve quality measurements, gain higher member satisfaction, and increase member retention. The simple integration and easy to use inGAGE™ creates an effective shift towards a healthier population for health plans. For more information, visit https://www.insightinhealth.com