Healthcare member engagement platform inGAGE™ solves your data challenges and enables you to deliver a highly satisfying healthcare experience.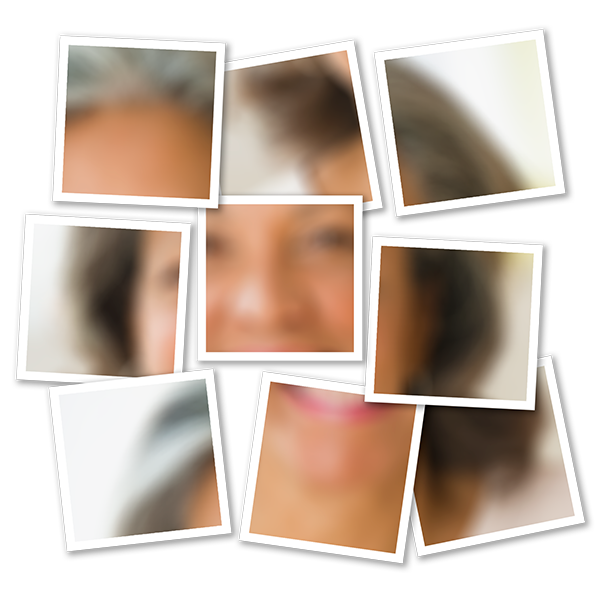 SIMPLE DATA INTEGRATION Integration, Not Disruption
No more silos. There is no shortage of data in healthcare. The problem is that it is fragmented, stored in silos, and oftentimes inaccessible. With inGAGE™, our cloud-based platform, you can integrate all your information – in whatever form it exists – to quickly create a connected data ecosystem. inGAGE™ makes it easy for you to lasso your fragmented data – from internal systems and external sources – and bring it into focus.  inGAGE™ leverage Natural Language Processing (NLP) to ingest both structured and unstructured from the data exchanged.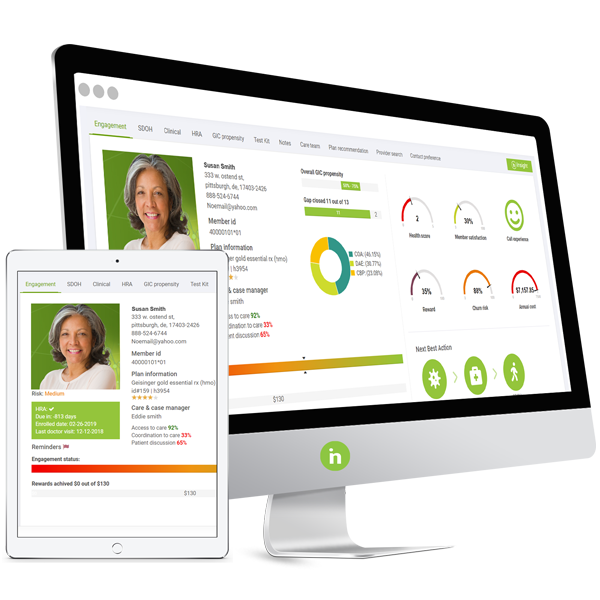 EASY REAL-TIME INSIGHTS Personalized, Not Generic
Now that you are seeing the full picture, you can design population strategies personalized down to the individual level. Using artificial intelligence and machine learning techniques, inGAGE™ leverages the totality of your data, in real-time, to make data-driven decisions. With automated healthcare member experience workflows, inGAGE™ prioritizes the Next Best Action based on need, value and likely response. Being able to easily see, understand, and act on the insights that your data reveals is game changing, whether the need is for your CAHPS strategies or Health Equity Index inGAGE(TM) has a solution for all.  Our Machine Learning driven advance analytics understand member trends and behavior in real-time to drive Next Best Action (NBA) to improve member experience and satisfaction.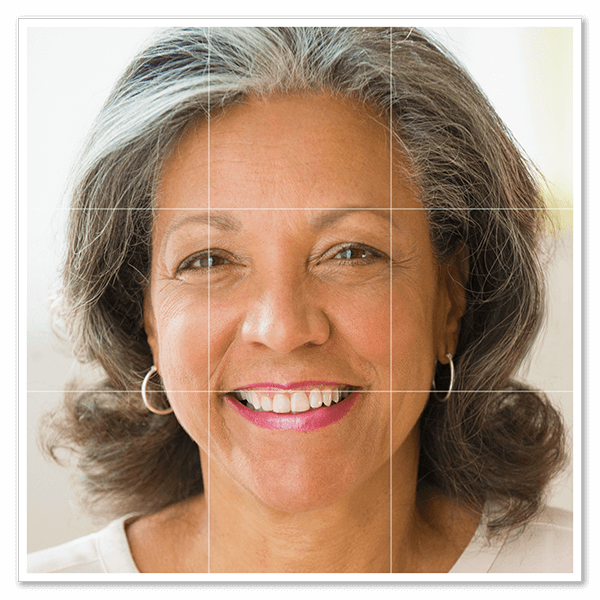 EFFECTIVE ACTIVATION FOR RESULTS Transformative, Not Transactional
Putting all of the pieces together allows for a comprehensive member engagement solutions and 360-degree data view to drive more value out of your existing programs and partners. And, the visibility gained through real-time performance dashboards opens up new possibilities to drive growth, increase value and improve overall profitability. This visibility combined with automated Next Best Action workflows and predictive and prescriptive insights connected to action make it possible for healthcare data analytics platform  inGAGE™ to deliver an overall net cost reduction within the first twelve months.  The AI driven NBA is activated through a wide range of ready to use integrations with- care management, omni-channel outreach, fulfillment, CRM and contact center solutions.
Choose a recognized consumer journey platform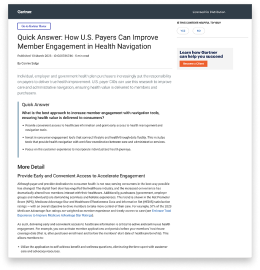 Insightin Health recognized in Gartner® report "Quick Answer: How U.S. Payers Can Improve Member Engagement in Health Navigation"
Download the report