AJMC Article: Advancing Health Care Consumerism Begins With Adopting a Retail Mindset
Adopting a retail mindset, where patients are the primary focus of innovations, could help advance health care consumerism in the future.
"Get closer than ever to your customers. So close that you tell them what they need well before they realize it themselves." In his quote, Apple founder Steve Jobs is defining the essence of the retail mindset. Just think about the positive impact that building this degree of customer intimacy can have on the health care industry. By adopting a consumer-centric approach, health care will be better positioned to improve quality, increase satisfaction, eliminate waste, and enhance the overall care experience.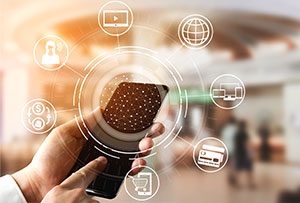 A 2020 survey of health care finance leaders showed that organizations embracing consumerism and proactively meeting member needs are more likely to succeed than those whose consumerism efforts are reactive. According to the same survey, technology is crucial in creating positive consumer experiences. Respondents who prioritized finding the right technologies to support consumerism were likely to report tremendous success around the member experience, transparency, and engagement.
In part motivated by the increased weight placed on experience and satisfaction measures in the CMS Star Rating system, health plan leaders are working to influence behavior and outcomes by presenting personalized, relevant choices to each individual member. Consider the impact that serving up highly curated member experience can have – personalized experiences lead to increased engagement; increased engagement reduces churn and builds loyalty; longevity with the health plan increases member understanding and enhances quality of care.
As retailers and other consumer-centric organizations increasingly provide flexible, efficient, and timely services to their customers, they are raising the bar on consumer expectations everywhere. Personalized services are becoming table stakes, making it essential for health plans to do the same. Health plans that can deliver consumer-centric experiences to their members today will have a competitive advantage over plans that continue to operate with a legacy mindset and a "one-size-fits-all" solution approach.
As health plans adopt a retail mindset and work toward delivering consumer-centric experiences to their members, they can look to leading retailers for inspiration. Additionally, these companies offer a model for success – ensure efficient access to data, know how to turn that data into information, and leverage comprehensive consumer information to drive action.
Simple connector: Integration, not disruption
The healthcare industry is surrounded by data. It is constantly being collected by people, systems, and devices. Despite an abundance of data, the industry faces very real challenges – the systems are not connected, solutions are not always scalable, information delivery can be slow. The usual suspects – access, timeliness, and completeness – get in the way. However, by solving the siloed data challenge and developing a holistic understanding of their membership, health plans can implement personalized solutions that were not previously possible.
The building blocks exist to create a connected data ecosystem in healthcare, with the potential to deliver personalized and integrated experiences for members. Shifting from episodic interventions to a care continuum built around a holistic and comprehensive view of a member drives individualized care, allowing health plans to improve member experiences. The CVS Health 2022 Health Care Insights Study revealed, "People want their [primary care physicians] to know and understand their lifestyle choices, personal health goals, family medical histories and more, and are open to their health information being shared across care settings to ensure seamless continuity of care."A connected data ecosystem is the answer.
Easy insights: Personalized, not generic
Seeing members holistically allows health plans to address their needs more quickly and further utilize technology to accomplish this at scale. Applying predictive analytics, plans can create multiple segments of value from their connected data. Historical data is important to understand what happened while real-time data enables plans to see what is currently happening. By utilizing both data sets with artificial intelligence and machine learning techniques, plans can predict what is likely to happen, and then effectively prescribe what should happen next using Next Best Action technology.
In practice, connecting electronic health record data would allow plans to see scheduled appointments in real-time and proactively trigger pre-visit assistance, such as free transportation, and a post-visit survey to gather feedback immediately after an appointment. This provides an opportunity for the plan to intervene immediately and correct any problems before the next visit.
This is the same mindset retailers use to understand their consumers. Relying on mock surveys to understand member satisfaction presents a challenge as they only provide reactive data, requiring plans to wait months or longer to understand a member's experience. Taking inspiration from retailers and enabling real-time data collection, plans can meet members' needs faster and enhance experiences to ultimately increase engagement and satisfaction.
Effective results: Transformational, not transactional
Members who are engaged with a plan are easier to retain, and effective engagement drives satisfaction, a powerful antidote to churn. A recent study of nearly 7 million Medicare Advantage members, where 25% disenrolled in the last 18 months, revealed that engaged members churn at a lower rate than the rest of the population.
Using a connected data strategy at a population level helps health plans understand where and why their members are churning. When members leave a plan, it is crucial for health plans to use that historical knowledge to implement strategies to increase engagement and improve satisfaction going forward.
By leveraging connected data in real-time, plans can identify members likely to churn, such as those who voice complaints or are impacted by social issues and barriers like food insecurity and loneliness. Armed with this knowledge at scale, health plans can quickly identify the levers to pull to solve these root cause issues, prevent churn, and improve member experience and satisfaction on a larger scale.
Healthcare consumerism: Innovative, not conventional
Delivering consumer-centric experiences starts with knowing your members. Health plans should consider the importance of their role in stewarding their members' wellbeing and begin implementing strategies and technologies that offer deeper insights into member needs, engagement, and satisfaction.