True North: follow a data-fueled path to meaningful member engagement
Chasing regulations is not a valuable strategy.
Not for health plans. Not for their members. And not for the companies that provide services to the health care industry.
Evaluating, understanding, and complying with regulatory requirements is important; however, building your member engagement strategy solely around governmental rulings is inefficient and unstable. As we recently saw in the 2024 CMS Medicare Advantage and Part D Final Rule (as we have historically seen and will continue to see moving forward), regulatory requirements change. If companies across the entire health care supply chain, my company included, hyper-focus on the regulations to the detriment of focusing on their existential "why?" they will struggle to define a purpose-driven, winning strategy.
A look at the Star ratings-related adjustments outlined in the Final Rule demonstrates that 1) expectations can change dramatically from year to year – member experience measures dropping back to 2-weighted, Health Equity Index reward to replace the current reward factor, to highlight two examples; and 2) waiting on regulatory insight creates uncertainty. Questions remain unanswered and there is often another shoe to drop, (Hold Harmless, anyone?). This uncertainty can paralyze the plans that are operating by the regulatory numbers; conversely, it creates an advantage for health plans with strategies aligned to their true north. Health plans that have made smart technology investments and are also positioned to triage their situation in real-time are doubly advantaged.
For many health plans in the Medicare Advantage space, the raison d'etre is clear: to ensure that all of their members have access to affordable, quality care. It's equally clear for us at Insightin Health: our true north centers on turning healthcare data into information in order to improve engagement, build trust, and create lifetime member value. [Side note: for a strong example of a health plan demonstrating their commitment to living their purpose, read How One Healthplan Addressed Disparities in Medicare Adherence.]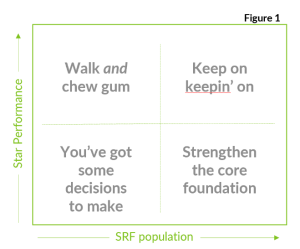 As Medicare Advantage plans continue to understand how the Final Rule will inform their member engagement strategies, much attention is rightfully placed on health equity. From our POV, the Health Equity Index is a positive disruptor and plans of all shapes, sizes, and complexities need to understand their position and lock in their strategy. Understanding population size of members with social risk factors (SRFs) and Star performance (overall and at a disaggregated level) provides a baseline view from which a clear strategy can be built. Where plans fall on the traditional 4-box matrix depicted in Figure 1 will influence their go forward approach. High-performing plans with large SRF populations will focus on fine-tuning, expanding and adding programs; plans that fall in the other quadrants may focus on preparing, training, and educating the organization, investing in data collection and advanced analytics, defining health equity goals and identifying business practices that contribute to inequity, building products and programs to attract and retain new members, and tailoring their member engagement strategies to meet the individual needs of their unique population segments.
Get ready, get set, measure
As we move from today to measure year 2025, we recommend a three-step playbook.
If you don't already have it, Step 1 is to create baseline visibility to performance across all populations. Pull together all the relevant data into a cohesive ecosystem, use predictive analytics to maximize what you can learn about HEDIS performance, CAHPS satisfaction, and retention at the disaggregated level using the data you have, and identify the gaps that are sure to exist. Identifying what's missing is essential. An output of Step 1 is to understand and start to resolve critical data gaps.
Step 2 is to pinpoint the impact cultural, socioeconomic and social determinants of health (SDoH) have on performance and conduct "test and learns." These insights allow plans to identify specific health equity initiatives and goals; and coupled with the ability to build and test hypothesis through various improvement and engagement approaches, plans can measure the impact of different interventions. Building relevant solutions tailored to the unique sub-populations that make up the total membership builds trust and positions plans to improve engagement, increase satisfaction, and reduce voluntary disenrollment.
Step 3 is an iterative process. For interventions proven to be effective, Step 3 is to automate personalized, next best action (NBA) solutions at scale. As complexity increases – language, health literacy levels, chronic conditions / disease burden, cultural norms, socioeconomic and SDoH considerations, benefit design, etc. – coordinating internal health plan resources as well as vendor, broker, community health worker and other partners to address barriers, close care gaps, and improve outcomes becomes more challenging. Investing in a solution to orchestrate data-driven, personalized, omni-channel member engagement is increasingly important.
Commitment to continuous improvement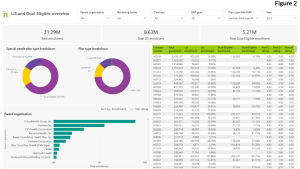 While high-performing health plans come in all shapes and sizes, they do have characteristics in common. They know their true north and they are relentless in continuously pushing themselves to deliver better experiences and outcomes for their members. Figure 2 shows overall and contract level Medicare Advantage enrollment with visibility to low income subsidy and dually eligible populations. From an enrollment perspective, close to 20 percent of the 31 million members covered through MA are enrolled in Special Needs Plans. When you narrow the view to the 6.5 million members covered in five star plans, SNP members make up just 10 percent of that number.
Achieving the goal of ensuring equitable care for all is monumental. If, collectively, the industry was doing a great job at understanding member needs and delivering culturally competent care, CMS would not need to drive the Stars program in this direction. As health plans incorporate Health Equity and other regulatory changes into their organizational performance improvement strategies, it is essential to invest in member engagement solutions that provide data flexibility and fluidity, advanced analytics that deliver next best action recommendations, and workflow automations that drive a true omni-channel engagement.  Doing so, enables plans to nimbly react and respond to regulatory changes with ease while seamlessly continuing forward following their true north path (with the added bonus of minimizing what can sometimes feel like regulatory whiplash).
Mary Jo Barthmaier is the President of Insightin Health. Our cloud-based, AI-driven platform, inGAGE™, creates real-time insights that drive consumer-centric healthcare experiences. By leveraging inGAGE™, Insightin Health customers deliver personalized, relevant member engagement to improve retention and increase lifetime member value. Currently the inGAGE™ platform has data for 10 million health care consumers.