Top 10 Strategies for Healthcare Member Engagement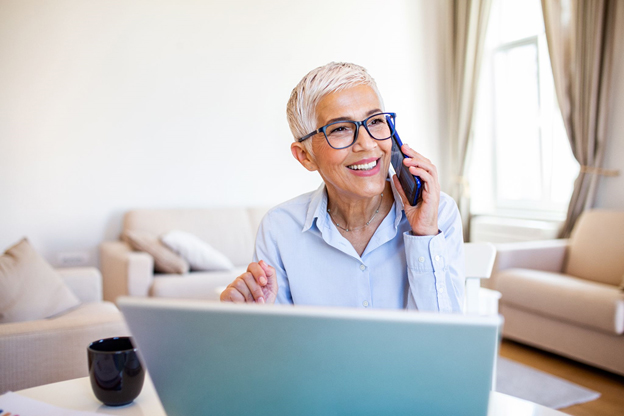 When J.D. Power released its annual US Commercial Member Health Plan Study in early 2020, the results of the study painted a stark picture of the state of healthcare member engagement. This was perhaps more troubling than usual, given that the survey occurred during the COVID-19  health crisis.
The survey revealed that 60% of privately insured US health plan members were not contacted by their health plan with guidance or information regarding the pandemic, and 48% reported that their health plan had shown no concern for their health since the pandemic began.
You might conclude that this apparent oversight was a result of payers being inundated with more claims to process and fewer staff members available to handle the overflow, but other findings in the report indicate that something else is missing. For example, only 36% of
commercial health plan members said their health plan acts in their best interest "always" or "most of the time," and only  25% of members said they view their health plan as a trusted partner in their health and wellness.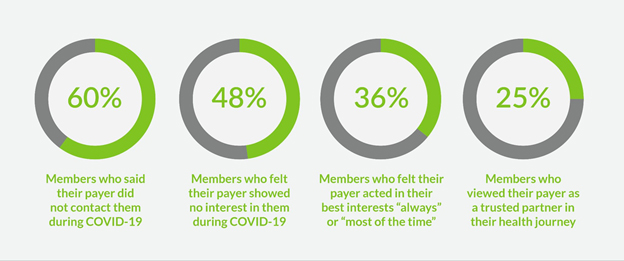 Has the situation improved since early 2020? The good news is that it has, though not as much as hoped. The 2021 report found that perceived levels of trust in health plans have increased 2% during the past two years. Overall satisfaction improved 10 points year over year, up from a 6-point increase in 2020 and a 1-point increase in 2019. And Net Promoter Scores also rose by 7 points during the past two years.
Commenting on the forward progress, James Beem, managing director of global healthcare intelligence at J.D. Power observed:
"The past year has proven without a doubt that effective use of digital channels has the power to increase customer engagement, build trust and promote brand advocacy. While many plans are showing tremendous progress by delivering for their members during a highly volatile and stressful period, they still have a long way to go when it comes to delivering consistently strong levels of customer engagement across all segments of their member populations."
Why Member Engagement Is Top of Mind Today
As the trend of healthcare consumerization continues, there can be no doubt that member engagement is central to improving the value of care, defined in terms of both the benefits delivered to members (such as better outcomes, greater satisfaction with care, and lower out-of-pocket costs) and the advantages healthcare payers derive, especially the ability to reduce spending while improving the quality of care.
| | |
| --- | --- |
| Benefits of Engagement For Members | Benefits  of Engagement For Payers |
| Improved decision-making | Increased member interest |
| Lower out-of-pocket costs | Reduced administrative costs |
| Greater satisfaction with care | Reduced member churn & improved trust |
| Better health outcomes | Improved satisfaction scores |
| Increased quality of life | Improved care management |
Strategies to Boost Member Engagement
Given the significant benefits of member engagement, what can payers do to ensure that members are engaged and satisfied with their member journeys? Here are some recommended steps:
1. Prioritize a member-centric culture in your organization
Before you can engage members effectively, you must be engaged yourself. That is, you must create an organizational culture that centers around building strong relationships with members that will help them to achieve better health outcomes and greater quality of life. Such a member-centric view should be reflected in your products, your member services processes, your claims processes, and your business practices.
2. Use data to deepen your understanding of member communities
Effective engagement strategies are built on a deep understanding of your member communities. That deep understanding comes from clinical, non-clinical, and self-reported data, both from internal and external sources. Research at a granular level is required to build insightful member engagement strategies.
Advances such as AI and machine learning can help you sort through and extract valuable insights from your data. A McKinsey paper on next-generation engagement tools notes:
"Advanced analytics enables the swift development of actionable personas (identifiable member segments with distinct known features and preferences). Real-time signal interpretation makes it possible to track member behavior and enables rapid multivariate testing of different member experiences. Episode analytics allows health insurers to identify and size highly granular sources of value and undertake an array of other applications.
 Advanced analytics leverages claims and other traditional health insurer data as well as touch-point information (such as website usage, contact center details) and third-party data (including consumer data, clinical data from providers, information about relevant social determinants of health)."
3. Leverage data from mobile technologies

In addition to tried and true data sources such as claims data, member surveys, and industry consumer trends, payers should also tap data sources such as wearable devices, mobile phones, and mobile telehealth trends to enrich their understanding of member populations.
4. Create frictionless onboarding and enrollment
Armed with the insights derived from your data, build a frictionless onboarding process for new members and a seamless enrollment process for both new and existing members. To do that, provide relevant, jargon-free educational materials that explain common health plan concepts.
The need for this is great. Consider, as an example, member education regarding deductibles and how they work. A recent McKinsey healthcare report revealed that 34% of survey respondents didn't know their deductible for out-­of­-network medical coverage, 24% didn't know their deductible for prescription drugs, and 16% didn't know their deductible for in- network medical coverage.
5. Focus on special community needs and supplemental benefits
Tailor your member messaging to the realities your members are actually facing in their daily lives. For example, if a certain segment of your member population is in an area where broadband is not available, offering education regarding how to use telehealth services is likely not engaging. On the other hand, if your members are in a community that is struggling with food scarcity, offering education about available government assistance, local food banks, and tips for how to eat healthily with a limited budget will likely be very engaging.
Consider offering supplemental benefits that serve unique community needs. Partner with outside sources of funding to design benefits opportunities that cater to specific member communities.
6. Provide educational, empathetic, personalized, and coordinated communication on the right channels
True engagement from your members comes naturally when those members feel appreciated, valued, and understood. Who wouldn't want to engage with an organization that empathizes with their needs?
Use personal health data, demographics, and opt-in preferences to learn what communication your members want to receive from you and which communication channels they prefer. Pinpoint  topics that will resonate with your member audience by spotting patterns of usage with predictive analytics tools. Customize your content based on what you discover, and deliver that content to members via the channel of their choice.
Regarding educational materials, look for obvious gaps in member health plan literacy. (A review of common questions directed to Member Services might be a good place to start your search.) For example, in the McKinsey study mentioned above, only 45% percent of respondents said they understood cost differences for inpatient vs. outpatient settings for a procedure.
A 33-year-old female survey respondent said: "I would like to clearly understand what is covered and what isn't. It's so hard to find that information. Even when you call the people on the line, they can't give a clear answer."
Consider creating "at-a-glance" content regarding individual member out-of-pocket expenses, flexible spending account balances, and relevant financial information via an online member portal.
7. Offer rewards and incentives for member engagement
Develop well-designed rewards and incentives programs to provide some spice to the member engagement pot. For example, you might design an incentives program to encourage members to participate in health assessments, wellness programs, or preventative care visits.
When creating rewards and incentives programs, be sure they are aligned with your overarching goal of improving health outcomes for your members and improving your own revenue opportunities. Measure the performance of programs to see what really provides value and impact for your members. Align incentives programs for members with incentives programs for providers to create synergies that lead to successful outcomes.
8. Offer next best step recommendations based on member data
Healthcare can be bewildering to even the most well-informed members at times. One excellent way to ensure member engagement is to clearly and concisely recommend to a member the next best step he or she can take to improve a health outcome.
Timing your message to closely match the member journey is the key to offering the right recommendation at the right time. Once again, a consolidated view of your member data will help you to map the journey effectively and offer useful recommended actions.
9. Measure member satisfaction continuously
You're likely familiar with one popular brand slogan that says "Can you hear me now?" That is the question you should be asking of your members on a continual basis. Are they engaged? Why or why not? What areas can you discern as needing improvement? Where are your strengths, and how can you build on them?
All of these questions can be answered by measuring member satisfaction and engagement continuously. What you measure, you can improve with analysis that leads to insights that lead to action.

Use advanced analytics to:
Predict which members will be making a key health decision and when
Develop and optimize member-specific recommendations, educational content, and channels of communication
Find opportunities for additional products or services to enhance member experience
10. Choose a person-centric tech provider and platform
Every intelligent member engagement strategy starts with data, so it is essential to choose a technology solution that will help your organization harness all its data, both internally and externally, to get a 360-degree view of your member population.
Ideally, your platform should:
Connect all the ecosystems that contribute to the member healthcare experience
Leverage machine learning and other advanced technologies to create a highly personalized, transparent, and person-centric healthcare experience
Provide personalized recommendations designed to improve health outcomes and quality of life for members
Simplify payer internal processes such as enrollment, onboarding, and claims
Improve operational efficiency and provide member engagement at scale
Net payer organizations cost reductions and new revenue opportunities
Partner with Insightin Health to Enrich Your Engagement Strategies
Insightin Health stands at the forefront of member experience and innovation. Insightin Health's leading-edge platform leading-edge platform helps healthcare organizations build unified member experiences that optimize outcomes both for members and payers.
Learn how to streamline the complete member journey and promote member engagement at every step of the way with Insightin Health.